The mission of the Meigs Soil and Water Conservation District is to provide assistance for the wise use of our natural resources for present and future generations.


USDA Conservation Programs for 2016 Now Available in Ohio.

For more information click Conservation Programs 2016.


The latest Meigs SWCD newsletter is out!
Click here
to check out the online version and to see what is new with the Meigs SWCD.
"Like" us on Facebook @ MeigsSWCD Conservation Area or Meigs Soil and Water Conservation District for the latest updates.
UPCOMING EVENT DATES
APRIL 23
STREAM SWEEP-9AM TO NOON AT CONSERVATION AREA
APRIL 28
POND CLINIC-6PM- BUCKLEY POND
MAY 16
FORESTRY WORKSHOP-6PM- CONSERVATION AREA
MAY 21
MEIGS COUNTY CLEAN UP DAY-9AM TO 2PM-FAIRGROUNDS
JUNE 2
WILDLIFE HABITAT WORKSHOP-6PM-CONSERVATION AREA
JUNE 8 AND 9
WATERSHED CAMP-9AM TO 4PM-CONSERVATION AREA
JUNE 18
OHIO RIVER SWEEP-9AM TO NOON- RACINE STAR MILL PARK AND POMEROY LEVEE
SEE BELOW FOR MORE DETAILS OF EVENTS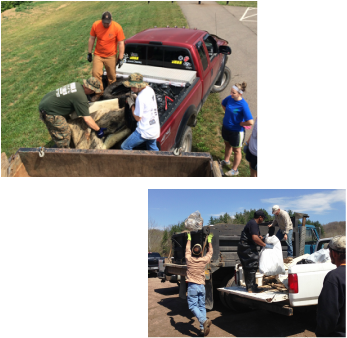 2016 Leading Creek Stream Sweep
The 16th annual Leading Creek Stream Sweep will be held April 23rd at the Conservation Area on New Lima Road at 9am. The Meigs SWCD would like to thank the following past sponsors; Meigs County Board of Commissioners, Gallia-Jackson-Meigs-Vinton Solid Waste Management District, Rutland Township Board of Trustees, and the Meigs County Transfer Station.

The Ohio River Sweep will be held on June 18. Volunteers can meet at the gazabo in the Pomeroy parking lot or at Star Mill Park in Racine at 9am. Special thanks to the partners and past donors: Ohio River Valley Water Sanitation Commission (ORSANCO), Home National Bank, Peoples Bank, Leading Creek Conservancy Distirct, Jaymar Inc., the Village of Pomeroy, the village of Racine, the Village of Syracuse, the Meigs County Transfer Facility, Pepsi of Athens, Fox's Pizza, Hill's Sonoco, and Par Mar Store.


---
Pond Clinic
A Pond Clinic will be held Thursday, April 28 at the Bill Buckley Pond on Rocksprings Road, Pomeroy. The FREE clinic will start at 6pm. Information will include all phases of ponds from planning to pest control. Landowners who own a pond or are thinking of constructing a pond, or are having issues with their pond will benefit from this clinic. The speaker, Perry Orndorff, retired Fairfield Soil and Water Conservation District, is a expert in all things pond. Please call the office, 740-992-4282 to pre-register for this event or if you have questions.


Forestry Workshop
This FREE informational workshop for forest owners focusing on Emerald Ash Borer, invasive plants, and related forest health topics. These factors could affect a land owner's decisions about timber harvesting or other uses of their forest. The workshop will be held Monday, May 16 at the Meigs SWCD Conservation Area between Rutland and Harrisonville. There will also be a question and answer session. Perry Brannon, ODNR Division of Forestry, will be the presenter. Please call the office, 740-992-4282 to pre-register or if you have any questions.

Meigs County Clean Up Day
Saturday May 21 from 9am to 2pm at the Rock Springs Fairgrounds. Free to Meigs County Residents. Proof of residence required such as driver's license or utility bill. No industrial or commercial customers. Get rid of junk, electronics, and tires for FREE! What we DO NOT TAKE: general household trash, appliances with refrigerant, household hazardous waste, chemicals, cleaners, pool chemicals, fluorescent lamps and ballasts, pesticides, herbicides and fertilizers, medical, infectious or biohazard waste, batteries or any liquids. Call the office for any questions, 740-992-4282.

Wildlife Habitat Workshop
This FREE workshop will be held Thursday, June 2 at 6pm at the Conservation Area between Rutland and Harrisonville. The workshop will include planning and planting of wildlife food plots, improving habitat for pollinators, wetlands, and other wildlife topics. There will be a question and answer session. John Norton, ODNR, Division of Wildlife will be the presenter. Any landowner is welcome to come learn how to make improvements to their property to benefit a wide range of wildlife. Please call the office, 740-992-4282 to pre-register or if you have any questions.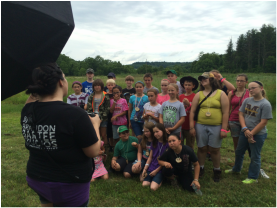 2016 Watershed Camp
Watershed Camp was held June 8 and 9 at the Conservation Area on New Lima Road. Camp is for kids ages 9-13. Camp is free for 50 campers. Some examples of past presentations included birds of prey, exploring the wetland, outdoor photography, electro-fishing, geocaching, soils, snakes, and much more. The campers learn a lot from the hands on activities. The Meigs SWCD staff and camper would like to thank the local business that donate to help keep the camp free to all campers. Rutland Department Store, Powells Foodfair, Twin Oaks, Rutland Bottle Gas, Ridenour Gas, Court Street Grill, Par Mar, and Save A Lot. We really appreciate your support! Click here for registration form.


To find out about camp events contact Jenny.Ridenour@oh.nacdnet.net
---
Honoring Meigs County's agricultural roots
through ODA's Century Farm Program
Meigs County is blessed with an agricultural heritage that has provided many historic, social and economic benefits to today's citizens. Our early farm families laid the foundation for today's food and agriculture industry - the no. 1 industry in the state - which adds $105 billion to our economy each year, according to Steve Jenkins, program administrator for the Meigs Soil and Water Conservation District.
The Ohio Department of Agriculture's Century Farm program was established in 1993 as a way to honor our pioneering farm families, and the Bicentennial Farm program was added in 2013. More than 1,000 Ohio farms which have been in the same family for at least 100 years are now registered as Ohio Bicentennial or Century Farms.
The Meigs SWCD is proud to recognize three local farms registered as Ohio Century Farms: Arthur Nease, Racine (1833), Virgil Windon, Chester (1869), and James Osborne, Reedsville (1872).
Jenkins encourages Meigs County families who may qualify to learn more on the program website (
www.agri.ohio.gov/divs/cent_farms/
), or to contact Program Manager Cindy Shy at
cindy.shy@agri.ohio.gov
or 614-752-9817.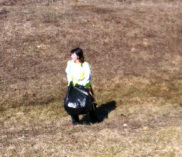 Adopt-A-Highway
It takes place at the Meigs SWCD stretch of "adopted" highway, along Route 7, between Hiland Road and Route 124. Gloves and bags provided. All four Adopt-A-Highway events have been completed for 2013. Thanks to all the volunteers who came out and helped keep our highway clean.



---
For pictures from past events, visit our Meigs SWCD
facebook
and Leading Creek
facebook
page.
Please check back later for more clean-ups, educator workshops, watershed tours, and other events! And don't forget to visit our photo page!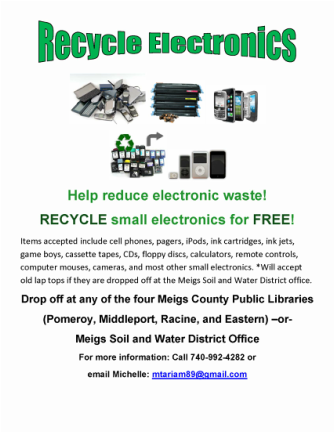 Electronic Recycling Program
The Leading Creek Watershed Group and all four Meigs County Public Libraries, located in Pomeroy, Middleport, Racine, and Eastern, are accepting used ink cartridges and small electronics for recycling. Help prevent electronic waste by recycling these unwanted or used items to the Meigs County Libraries or the Meigs SWCD.

Boxes, like the one shown below, will be set up for collection at each location.

Items accepted include cell phones, pagers, ipods, ink cartridges, ink jets, game boys, cassette tapes, cds, floppy discs, calculators, remote controls, computer mouses, cameras, and most other small electronics. *Will accept old lap tops only if they are dropped off at the Meigs Soil and Water District office.

We do not accept anything that will not fit into the drop box. Please call Meigs SWCD or email Mtarian89@gmail.com if you have any questions about the items we will except.
---
Find Meigs SWCD and many other places to recycle on the iRecycle smart phone app!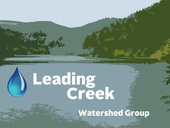 Leading Creek Watershed UpdatesLeading Creek is always looking for volunteers to do water quality monitoring. Please visit our Leading Creek page for more information!Visit our
Facebook
! page and "like" Leading Creek Watershed
---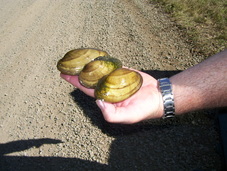 Mussel Reintroduction Update

On September 11, 2012 Dr. Watters (curator of mollusks at the Ohio State University Museum of Biological Diversity in Columbus) came down to the Leading Creek Watershed to reintroduce the two new species of mussels into our watershed. These fresh water mussels disappeared in 1993 in response to a large influx of acid mine drainage into the Leading Creek. Freshwater mussels have been disappearing though out Ohio over the past couple of decades, and the causes are largely uncertain, although sedimentation and pollution could be contributing.

For more on Leading Creek visit the Leading Creek Watershedpage.





Content copyright 2009 - 2012. Meigs SWCD. All rights reserved.
---