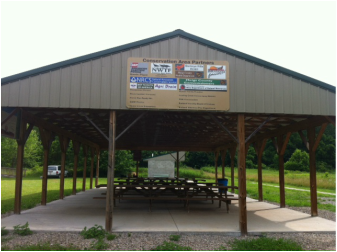 Conservation AreaThe Conservation Area is open for spring exploring. It's the perfect time of year to visit the Conservation Area. Go for a walk on our nature trails, take pictures of wildlife tracks, listen for owls, or observe the wildlife in our wetland! The Area is open to the public and also hosts a number of Meigs SWCD events. Brochure
Where is the Area?
Hiking Trail
---


About
The Meigs SWCD acquired the Conservation Area on June 13, 2003, with assistance of the Ohio Department of Natural Resources' Clean Ohio Green Space Conservation Fund. The Meigs SWCD has steadily been busy making improvements to the property including the construction of a gravel parking lot, a 1.5 mile loop trail, wetland and native grass and wildflower plantings.
We at the Meigs Soil and Water Conservation District look forward to watching the property bloom and grow. Feel free to check out the Meigs SWCD Conservation Area and walk the Pauline H. Atkins Memorial Trail. As always, take only photographs and leave only footprints.
What's New?
In June of 2012, we made two new additions to the Conservation Area! Restroom facilities, which will be very useful for educational activities such as our annual Watershed Day Camps, were recently iinstalled. Staff and volunteers also worked together to construct a rain garden, which will collect and filter water from the shelter-house roof.

Past Construction projects. Construction was finished in November 2010 and has since been used for activities, such as our Watershed Day Camps, in the spring and summer. Anyone interested in using the shelter-house can contact the District for more details.

In the spring of 2011, a new bridge was installed! It passes over a small stream and leads from the shelter-house area to the wetland.

We have made improvements to the Atkins Trail with a $600 grant from Buckeye Hills Resource Conservation and Development Fund.



Interested in making a donation to enhance the Conservation Area or helping with trail maintaince?
Contact us today!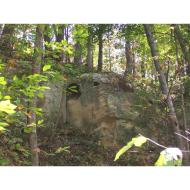 Geocaching!
Discover the hidden treasures at the Conservation Area! There are two Geocaches hidden on the Conservation Area property. Geocache is the objective of an exciting new game for GPS users. For more information, visit
http://www.geocaching.com/.
Every place has a great story. Tucked away in the Conservation Area is a mysterious rock named Turtle Rock. Sitting high above the prairies and wetland of the Area, Turtle Rock seems to quietly gaze upon the land. Learn the story of Turtle Rock, and see if you can locate it next time you visit the Conservation Area.
The Story of Turtle Rock by Jim Freeman Listen children and I will tell you a story, about once upon a time, long, long ago when the land was new, there was a box turtle, a simple box turtle that lived a simple box turtle's life in what is now the Meigs Soil and Water Conservation District's Conservation Area.
Like all other box turtles, he had a high shell with a hinged bottom that he could close up tightly to "box" himself up safely inside his shell. His shell was colored dark brown and had yellow blotches, which helped him hide among the leaves covering the forest floor. At that time, he was just like any other box turtle...
continue the story here
.
Turtle Rock
---





Content copyright 2009 - 2012. Meigs SWCD. All rights reserved.