The mission of the Meigs Soil and Water Conservation District is to provide assistance for the wise use of our natural resources for present and future generations.
The latest Meigs SWCD new letter is out!
Click here
to check out the online version and to see what is new with the Meigs SWCD.
"Like" us on Facebook @ MeigsSWCD Conservation Area for the latest updates.
RIver Sweep was a great event this year. Thanks to everyone who came out and helped keep the Ohio River clean for another year. Check back for details about next year's event.
---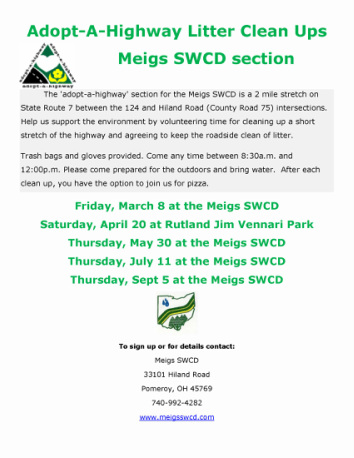 Adopt-A-Highway
It takes place at the Meigs SWCD stretch of "adopted" highway, along Route 7, between Hiland Road and Route 124. Gloves and bags provided. Pizza and drinks are provided at the end of the pickup. All four Adopt-A-Highway events have been completed for 2012. Thanks to all the volunteers who came out and helped keep our highway clean.

The 2013 Adopt-A-Highway events have been scheduled!
Trash bags and gloves provided. Come any time between 8:30a.m. and 12:00p.m. Please come prepared for the outdoors and bring water.

Thursday, May 30 at the Meigs SWCD
Thursday, July 11 at the Meigs SWCD
Thursday, Sept 5 at the Meigs SWCD
---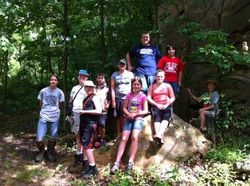 Leading Creek Watershed Day Camps

Watershed Day Camp was a great two days. We had over 30 campers each day. Thank you to everyone who came out and helped the camp and to all the campers who attend
To find out about future camp events contact Jenny.Ridenour@oh.nacdnet.net
---
Meigs County Clean Up Day was a huge success. We filled over 2 dump trucks of trash, 3 of tires, and one truck of electronics. There was also a scrap metal pile, paper shredding, and a reusable item station. With the help of the community, Meigs County is a cleaner place. Thanks!
---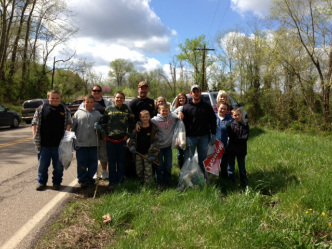 The 2013 Stream Sweep was a success. 65 volunteers come out and helped pick up 0.68 tons. This is a huges success for Leading Creek. Thanks to the community for taking care of our watershed!
Spring-Summer
and
Fall
2012 Newsletters And our newest edition WINTER 2013!!!!
---
Congratulations to Kylie N. King who won 1st place in the Leading Creek Photo Contest. Her picture titled, "Joy in the Water" is show to the left. Congratulations also go out to Josephine Hill, Peggy Crane, Vivki Morrow, and Joyce E. Manuel who also placed.

Thanks to every who participated in the photo contest. All of the pictures represented this year's theme, "Water and You", and shows what the local watershed mean to members of the community.
---
For pictures from past events, visit our Meigs SWCD
facebook
and Leading Creek
facebook
page.
Please check back later for more clean-ups, educator workshops, watershed tours, and other events! And don't forget to visit our photo page!
---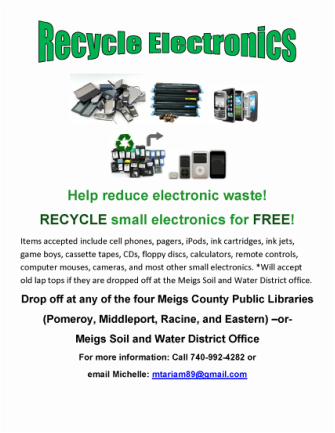 Electronic Recycling Program
The Leading Creek Watershed Group and all four Meigs County Public Libraries, located in Pomeroy, Middleport, Racine, and Eastern, are accepting used ink cartridges and small electronics for recycling. Help prevent electronic waste by recycling these unwanted or used items to the Meigs County Libraries or the Meigs SWCD.

Boxes, like the one shown below, will be set up for collection at each location.

Items accepted include cell phones, pagers, ipods, ink cartridges, ink jets, game boys, cassette tapes, cds, floppy discs, calculators, remote controls, computer mouses, cameras, and most other small electronics. *Will accept old lap tops only if they are dropped off at the Meigs Soil and Water District office.

We do not accept anything that will not fit into the drop box. Please call Meigs SWCD or email Mtarian89@gmail.com if you have any questions about the items we will except.
---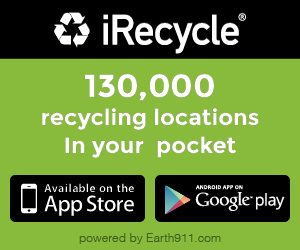 Find Meigs SWCD and many other places to recycle on the iRecycle smart phone app!
Leading Creek Watershed UpdatesLeading Creek is always looking for volunteers to do water quality monitoring. Please visit our Leading Creek page for more information!Visit our
Facebook
! page and "like" Leading Creek Watershed
---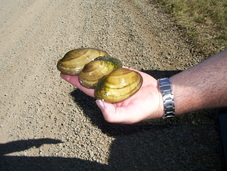 Mussel Reintroduction Update

On September 11, 2012 Dr. Watters (curator of mollusks at the Ohio State University Museum of Biological Diversity in Columbus) came down to the Leading Creek Watershed to reintroduce the two new species of mussels into our watershed. These fresh water mussels disappeared in 1993 in response to a large influx of acid mine drainage into the Leading Creek. Freshwater mussels have been disappearing though out Ohio over the past couple of decades, and the causes are largely uncertain, although sedimentation and pollution could be contributing.

For more on Leading Creek visit the Leading Creek Watershedpage.





Content copyright 2009 - 2012. Meigs SWCD. All rights reserved.
---